Photonics Industry - Promotions
EXFO Reduces Testing Time by a Minimum of 50% with Release of New Loopback Fiber-Characterization Feature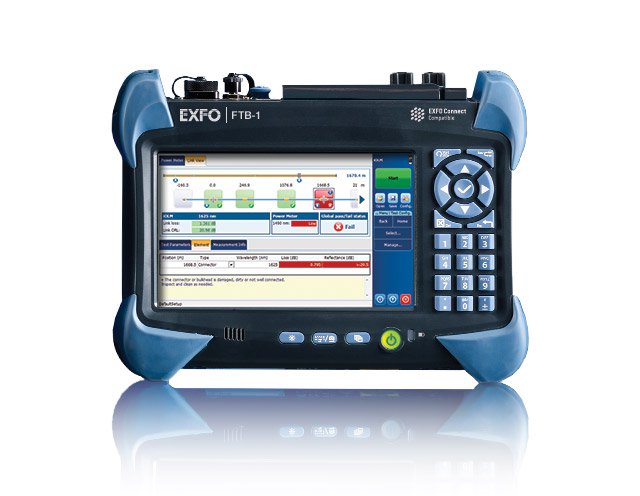 EXFO Inc. (NASDAQ: EXFO; TSX: EXF) today announced the latest feature set for EXFO's iOLM application designed to simplify optical time-domain reflectometer (OTDR) testing. The iLOOP intelligent feature relies on the loopback single-ended measurement method allowing two fibers to be characterized through a single acquisition. This feature performs automatic result-splitting of the two fibers–live from the test site–thus eliminating the need for additional post-processing. The fiber-certification process is quickened, resulting in time spent on testing and analysis being slashed by more than 50%.
With automated multipulse acquisitions and advanced algorithms, the iOLM OTDR based application delivers detailed information on every element across the link with a single button operation. Add the the iLOOP feature and iOLM delivers maximum intelligence and simplicity for expert-level link characterization—now twice as fast as ever. Once the measurement has been completed, iLOOP automatically creates two distinct fiber links, applies pass/fail thresholds and generates individual iOLM and OTDR (.SOR) files with a report for each single fiber. Efficiency is greatly increased directly from the field, enabling technicians to close jobs faster and immediately move on to the next task.
iLOOP is particularly relevant in applications using duplex fiber installations, such as in wireless fronthaul or data centers, where fiber count is usually high and new services need to be turned up quickly. Cutting fiber-testing time in half amounts to substantial OPEX savings—a key consideration for operators. Implementing iLOOP on EXFO's iOLM will result in notable efficiencies for fiber-to-the-antenna (FTTA) and distributed antenna systems (DAS) applications, as it enables technicians to simultaneously test Rx/Tx fibers with a simple loop jumper between two fibers at the tower top. This simplified test process allows tower climbers, often less familiar with optical fiber, to reach the top of the tower with a simple connector inspection solution and a fiber loop jumper while the main test instrument remains safe on the ground.
"Creating solutions that help our customers reduce operating expenses (OPEX) is top-of-mind at EXFO," said Étienne Gagnon, Vice-President, Physical-Layer and Wireless Division. "With massive FTTA and data center deployments becoming more commonplace, the ability to characterize two fibers at once using iLOOP represents an OPEX savings in both time and equipment. This simplicity and accuracy in OTDR testing makes EXFO's iOLM solution the tool of choice for fiber installers and contractors."
Additional information about the EXFO iOLM and the iLOOP feature can be obtained by visiting EXFO.com.
All Registered Trademarks, brand names and logos are respected and their ownership acknowledged. They are used on this website for information and reference purposes only. Test Interest doesn't assume any other implication or representation.